At Russell Country, we believe that investing in the communities we serve is the gateway to investing in it's future.  Whether it's through monetary donations or staff participation, the communities we invest in are the communities we live in.  When our communities thrive, we all benefit.
On average, Russell Country donates $15,000 each year to non-profit organizations. Organizations that have benefitted from these donations include:
Lewis and Clark Foundation
Great Falls Public Schools Foundation
Benefis Health Systems Foundation
Shodair Hospital
Fairfield Lion's Club
Fairfield Swim Days
Sun River Electric
Project Graduation
Fairfield Volunteer Fire Department
Family Connections
Shop with a Cop
Business Professionals of America
Additionally, over a three-year period, the Credit Union donated

$15,000

to the Rescue Mission's Cameron Center Building Campaign
Russell Country also invests in the community through staff participation in its own initiatives and other service projects.  Here are some of the hi-lights from recent years.
Jersey Off Your Back – In partnership with the Great Falls Voyagers Baseball Team, a non-profit is chosen each year to receive the proceeds of all funds raised through an auction of the Voyager's Baseball jerseys.  These jerseys are created with the non-profit in mind, and are co-branded with their name and logo, as well as the Credit Union's name and logo. Organizations who've benefited from the auction proceeds include:
Great Falls and Fairfield Public Schools Food Pantry Programs

Royal Family Kids Camp for foster children

St. Thomas Child & Family Center

Camp Francis Grief Camp

Casa-Can
Toby's House, a crisis nursery where parents or a legal guardian can drop off their children to provide support and safety for the children, if the family is dealing with a crisis or stressful situation, is the 2020 and 2021 chosen non-profit. Due to COVID restrictions, the Jersey Off Your Back event was cancelled in 2020, however, a donation, in the amount of $4,025.00 was given to the organization from proceeds raised at the Credit Union's annual Employee and Volunteer Appreciation Dinner.  In 2021, $5,618.00 was donated from proceeds raised from the "Jersey Off Your Back" event, with an additional $750.00 being donated from the Credit Union's past volunteers in celebration of its 75th Anniversary.
To date, dollars raised to support these worthy organizations and their causes totals over $31,000.00.
UNITY Project – In May 2013, Russell Country kicked off a campaign called the Unity Campaign.  A goal was set, and met, to save members in the community $1,000,000.00 in interest by refinancing higher interest loans to lower interest loans at the Credit Union. This goal was exceeded by over $36,000.00. Additionally, a percentage of each funded loan was donated to three non-profits, selected by the members.  Non-profits who benefited from the program were YWCA Mercy Home, Great Falls Public Schools Foundation – Homeless Students Program, and Kairos Youth Program.  
Russell Country was awarded the "Medium Sized Business of the Year" by the Great Falls Area Chamber of Commerce for this initiative.
The 2014 Unity Project focused on raising awareness of childhood hunger. Throughout the year, staff and members donated food via collection bins in the lobbies.  In early 2015, the Great Falls Public Schools Foundation Food Pantry, the Choteau Public School "Back Pack Buddy" Program, and the Fairfield Public School Food Pantry each received a $2,000 donation and totes of donated food.
The 2021 program will kick-off in mid-summer and run through the end of the year, with a focus on the Credit Union's 75th Anniversary.
Pay It Forward – In 2015, Russell Country began this special initiative in partnership with True Brew Coffee House, enabling True Brew to "Pay It Forward" with a free "Cup of Joe" on behalf of Russell Country.  Each year, 100 – 150 True Brew patrons receive their drink for free and are then encouraged to "Pay It Forward" to someone else along the way.
Employee Appreciation Dinner – Each year, the Credit Union selects a non-profit to support through it's Silent Auction and other fundraising activities at it's Employee Appreciation Dinner.  Some of the non-profits who have benefitted are:
West Elementary Student Activity Fund 
Montana School for the Deaf and Blind "Expressions of Silence" 
Casa-Can
Toby's House
Additional Sponsorships and Memberships
Great Falls Area Chamber of Commerce
Great Falls Association of Realtors – Young Professionals Network
NeighborWorks-Great Falls
Giant Springs Chapter of Credit Unions

Great Falls Food Bank CANTASTIC Program
Garage Sale for Good benefitting:

Children's Receiving Home
Royal Family Kids Camp

MT School for the Deaf & Blind Foundation

Banzai Financial Education Program
Children's Receiving Home – Angel Tree Program
Toys for Tots
Shodair Children's Hospital
MANG Annual Family Day

Montana State Fair – Military Appreciation Dinner & Patriot Night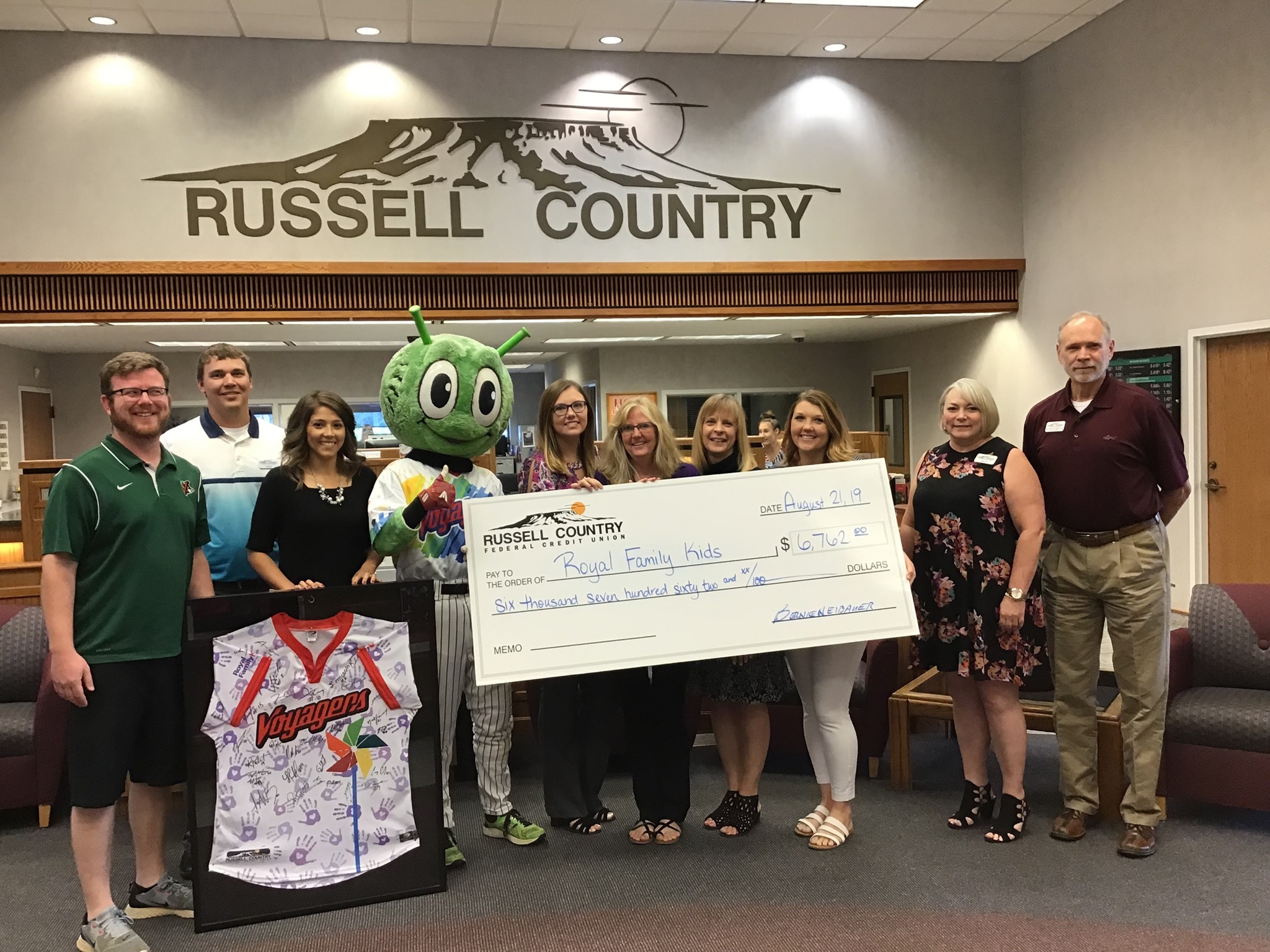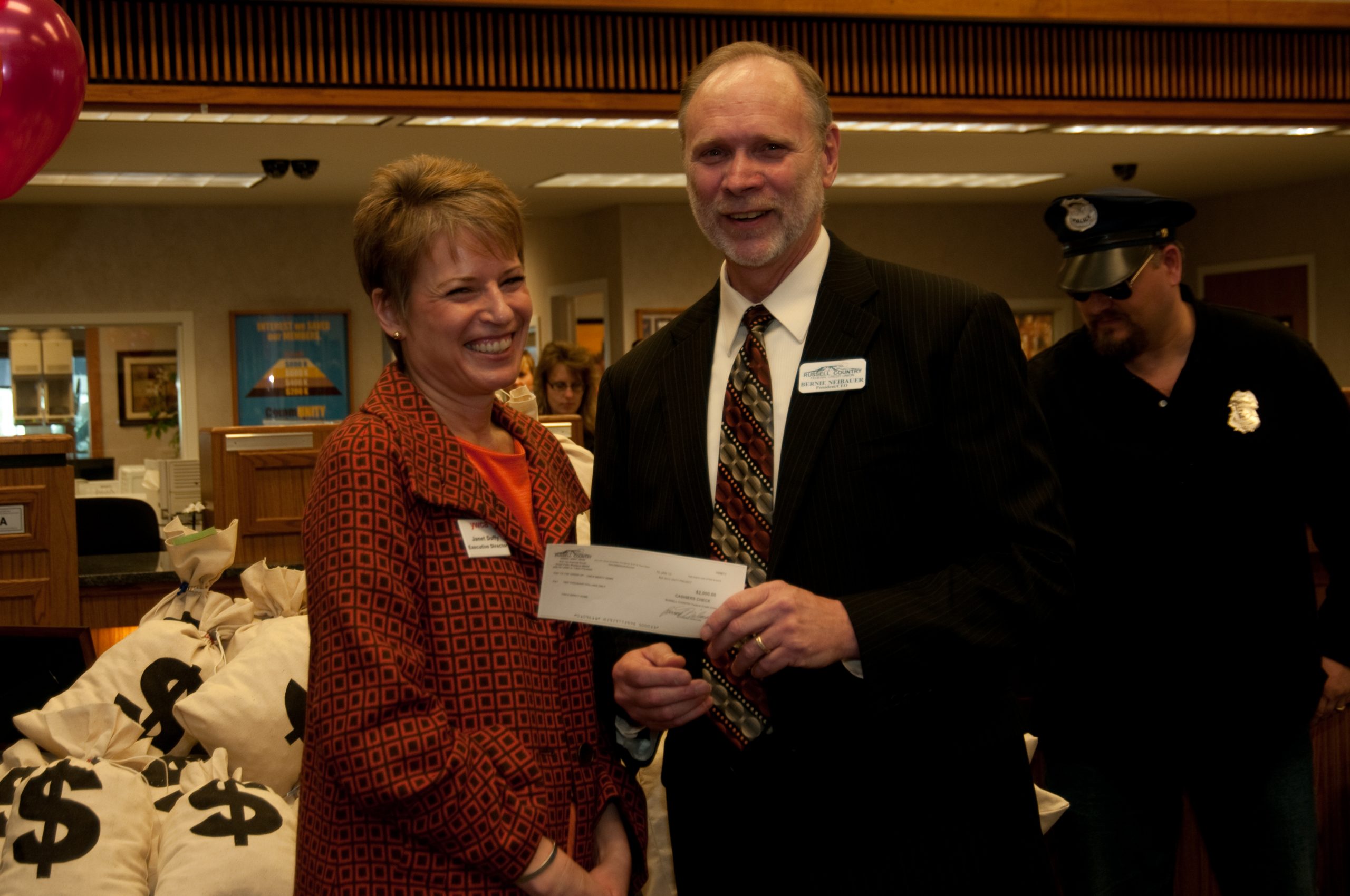 Unity Campaign Celebration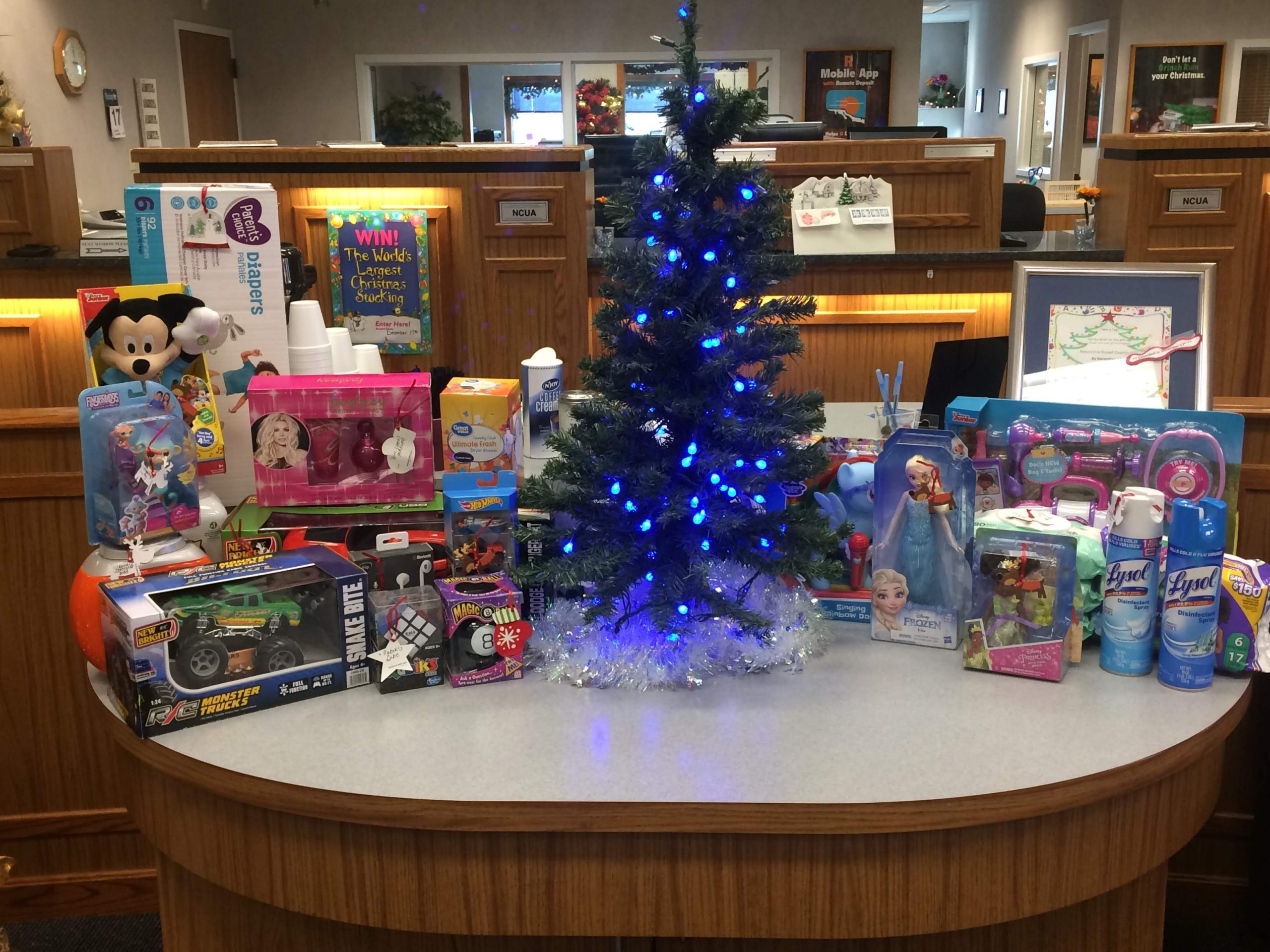 Children's Receiving Home Angel Tree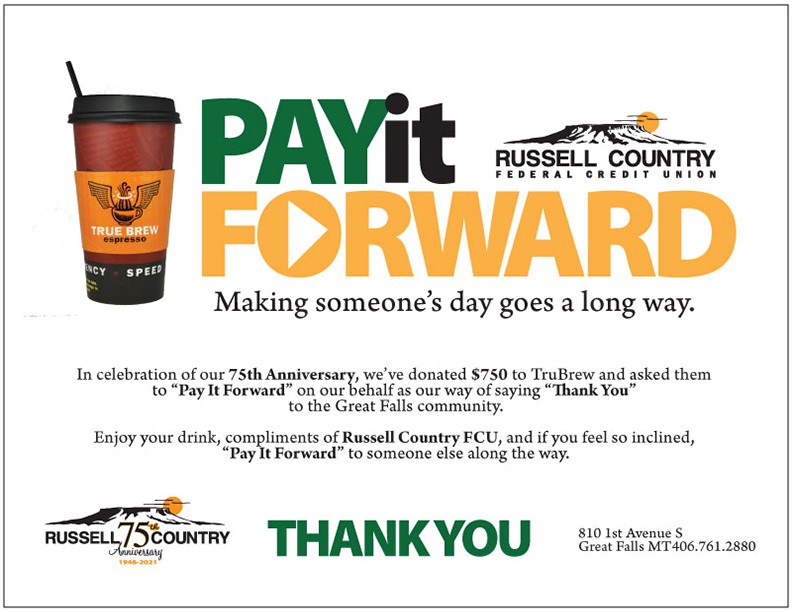 Pay It Forward!
In celebration of our 75th Anniversary, we've donated $750 to TruBrew and asked them to "Pay It Forward" on our behalf as our way of saying "Thank You" to the Great Falls community.
Enjoy your drink, compliments of Russell Country FCU, and if you feel so inclined, "Pay It Forward" to someone else along the way.