Secure Checking gives you a wealth of benefits that will help you bank smarter and protect yourself and your family, including: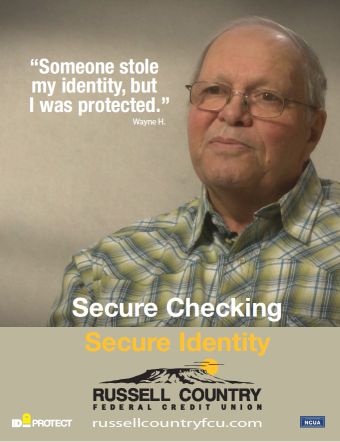 No minimum balance required
Rewards earning account**
ATM access at over 28,000 surcharge free ATMs
Free text alerts
Free online banking
Free online bill payment
Free eStatements
Unlimited check writing
Immediate access to your payroll with direct deposit
MasterCard® debit card
Secure Checking includes IDProtect®, an Identity Theft Monitoring and Resolution Service1 that includes credit file monitoring2, 3-in-1 credit report, monitoring of over 1,000 public databases, identity theft expense reimbursement3, fully managed resolution services, and more.
With the great financial and security benefits and low monthly maintenance fee of just $3.95 – it's an easy choice!
**Rewards include $1.00 refund of Secure Checking Fee per month, up to $5.00 ATM Fee per month and up to $35.00 courtesy pay fee refund per month (limit 4 per year), if qualifications are met*.
* Requirements to earn rewards include, 10 signature based debit card transactions clear and post to the account during the statement cycle, enrollment in eStatements with a valid email address, one electronic withdrawal or deposit to the account during the statement cycle (excludes transfers to/from Russell Country shares or loans) and have no more than 10 share drafts clear the account during the statement cycle.  If the account requirements are not met, ATM and courtesy pay/nonsufficient funds fees will not be refunded.  Requirements are calculated for each calendar month. 
1 IDProtect service is a personal identity theft protection service available to account owner(s) and their family.  Family includes: Spouse, persons qualifying as domestic partner, and children under 25 years of age and parent(s) who are residents of the same household.  Service is not available to a "signer" on the account who is not an account owner.  Service is not available to businesses and their employees, clubs and/or churches and their members, schools and their employees/student.
2 Credit file monitoring from Experian and TransUnion will take several days to begin following activation.
3 Special Insurance Program Notes: The descriptions herein are summaries only.  They do not include all terms, conditions and exclusions of the policies described.  Please refer to the actual policies for complete details of coverage and exclusions.  Insurance is offered through the company named on the certificate of insurance. Refer to Insurance Documents for complete details of coverage.  
Insurance product is not a deposit; not NCUA insured; not an obligation of credit union; and not guaranteed by credit union or any affiliated entity.
Secure Checking for our members 55 and older:
In addition to all of the benefits listed above, this account provides Russell Country members 55 and older
Free Corporate Checks
Free MasterCard® debit card
Free ATM withdrawals (nonproprietary ATMs may charge a surcharge)